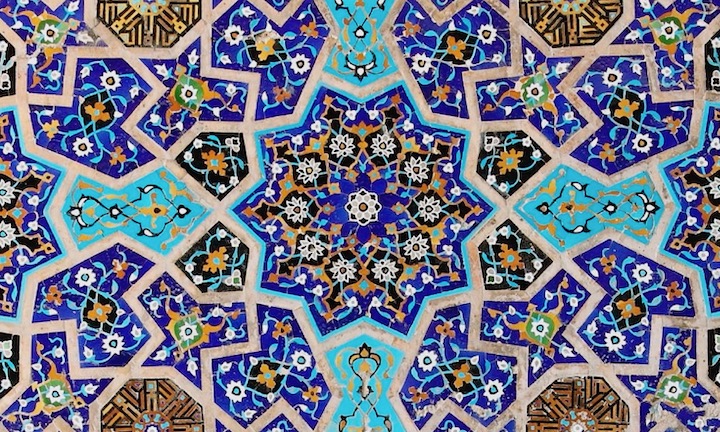 Several years ago I created a short quiz for a class I was teaching. I presented participants with lines of verse — some were contemporary pop lyrics, others were bits of sacred poetry from various traditions — and invited them to distinguish which were which. It was darned clever. I called it "Mystic or Manilow?"
Here it is:
My love, please let me touch your face.

You're in my blood like holy wine, you taste so bitter and so sweet.

I sold my soul, you bought it back for me.

We ran into each other's arms and he lifted me as he so often had — twirled me through the air, his hand beneath my arms.

I like talking to you like this. Have you moved a step closer? Soon we may be kissing.

When at last I find you, your song will fill the air.

Nibble at me — don't gulp me down.

I will not lie in my bed again until you have kissed me with those words that you whisper to yourself.

I want to stand with you on a mountain. I want to bathe with you in the sea.

I won't tease you like that, for I love when your eyes get excited.

My wings expand and I touch him more intimately.

You and I will make each night a first, every day a beginning.

My lips got lost on the way to the kiss — that's how drunk I was.

Some say love is a hunger, an endless aching need.

Sing, my tongue, sing my hand, sing my feet, my knee, my loins, my whole body.

The cure for me was his beauty.

My cards are on your table. My dreams are in your bed.

I knew the moon was like me — in heat, crazed, and hunting.

I get dizzy if I think about anything but the way you pant in my ear.

I hear your voice — it's like an angel sighing. I have no choice, I hear your voice.

Then you came along with your siren song to tempt me to madness.

When he touches me I clutch the sky's sheets the way other lovers do.

Strumming my pain with his fingers, singing my life with his words.

I thought of putting my hand where I could tell no one. I knew a sacred liquid there could flow and give me peace.

When I think about you, I touch myself.

Spirit move me, every time I'm near you.

Grab hold, play me against your warm thigh.

And it gets stronger in every way, and it gets deeper let me say, and it gets higher day by day.

Come on and touch it, I know you will love it, with it I know that heaven's a butterfly kiss away

Love, you have wrecked my body. Keep doing that.
(answers below)
Whether or not you find this tricky, I think it's kind of fun to look at these writings side by side, to note how such expressions of romantic love and love for the Divine have been so similar throughout the ages — sexy, racy, passionate, and deeply spiritual.
This Sunday, May 12, at Bosque Center for Spiritual Living (bosquecsl.org), we'll be stirring together a love potion of American jazz and 14th-century Sufi poetry, for our 3rd annual mystical mashup: It Had to be Hafiz.
I can't wait to be with you! XO, Drew